For a few weeks, we've been trying to eat 10 portions of fruit and veg a day.
Then last week, I read Tim Spector's book The Diet Myth in which he explores many common beliefs about diet such as whether vitamin tablets, fish oil and those little probiotic drinks are really good for you.
Losing weight, it turns out, isn't just a question of eating less calories. For one thing, "our bodies simply seem to adapt to the new reduced calorie intake." Plus we're all different and we have different microbiomes. The food that makes me put on weight may not affect you in the same way. The calories themselves are different too: "Two thousand fast-food calories will have very different energy consequences from 2,000 calories made up of whole grains, fruits and vegetables."
So I need to avoid fast-food takeaways but what's the big takeaway message from this book?
It's all about gut health and one of the best things you can do for your gut health is to eat a wide variety of plant products, preferably at least 30 different types a week.
It's different from eating 10 portions of fruit and veg a day. Some things e.g. grains and seeds count towards my 30 a week but not towards my 10 a day. And if I eat a portion of carrots two days running, each portion counts as one of my ten a day, but is only one of my 30 a week.
I started by counting how many varieties I was already having. To my surprise, in just 4 days, I ate 41 different plants despite having a fry-up brunch on Sunday. Except for Sunday, we had salad or a "Buddha bowl" for lunch each day. Dinners included veggie pad thai, rich mushroom ragu and creamy chickpea curry with a baked sweet potato.
Sprinkling nigella seeds, sesame seeds, pine nuts, roasted peanuts and roasted cashew nuts onto our meals added extra variety, and we ate fruit, olives and other nuts and seeds as snacks.
Next week, I'm planning to increase the variety even more by adding more herbs to my cooking and eating a greater variety of fruit (whilst trying to stay low carb). I've also bought some jerusalem artichokes and some sauerkraut to try, both of which are supposed to be good for gut health.
What about the price of all this fruit and veg? Admittedly, I've spent more on my weekly shop this week. But you can eat a variety of plant foods on a budget. This screengrab shows 38 different plant foods in my virtual Morrisons trolley. There'll be at least 6 different veg in the "wonky veg" box and 4 types of frozen berries in the mixed bag. As well as fresh and frozen veg, there's also tinned mandarins, beans and sweetcorn, and some dried lentils. The total cost? £24.50.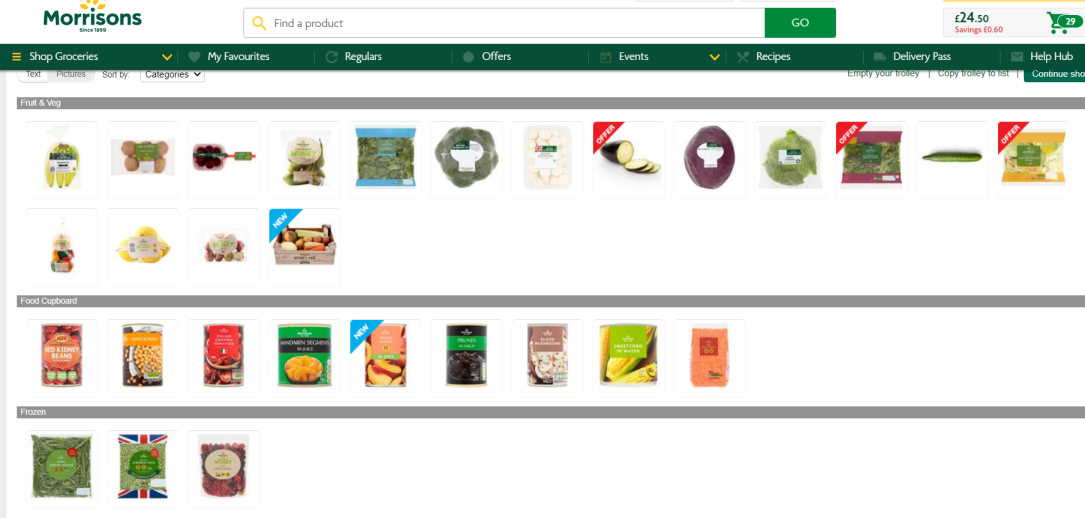 Finally what about exercise? Tim Spector points out that "the energy expenditure in most people's weekly gym workout equates only, sadly, to the reward of a large doughnut afterwards." I, for one, would rather go without the donut and skip the gym. However, whilst exercise is unlikely to lead to much weight loss, it does help our hearts, muscles and bones, increases our lifespans and is good for all those gut microbes. That's just the incentive I need to continue my daily walks.
In case you're interested, these are the plants I ate in four days:
brazil nuts
cashew nuts
nigella seeds
broccoli
butternut squash
rocket
beetroot
chickpeas
asparagus
lemon
quinoa
peanuts
cherries
almonds
pumpkin seeds
raspberries
red pepper
garlic
Lime
Mushrooms
spinach
beans
tomatoes
carrots
olives
grapefruit
cucumber
lettuce
green lentils
onion
pinenuts
celery
blueberries
sesame seeds
ginger
oats
sweet potato
spring onion
chilli pepper
coconut
oregano